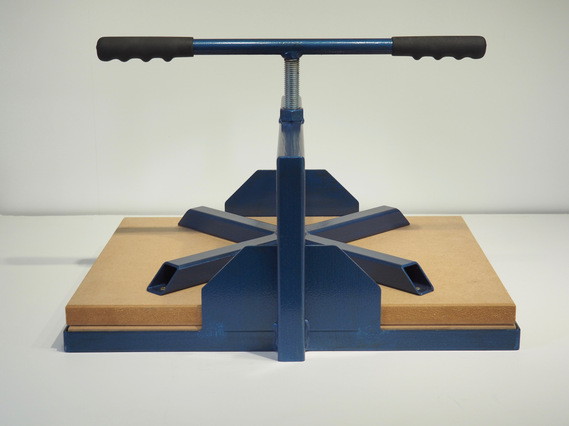 The Blue Boy Press is a simple, lightweight, practical solution for relief printmaking where space is at a premium. It can be fixed to a work surface or used freely and then stored elsewhere. It weighs 16 kg (35 lbs) which makes it fairly portable if you need to carry it around.

The press was designed by Suffolk printmaker Michael Carlo for use in his studio and as a teaching aid. He is happy for us to manufacture it. Michael is featured in the Ann Westley book 'Relief Printing' talking about his work and the Blue Boy press.



We are Baker Fabrication, a small steel fabrication business situated in the Cambridgeshire fens. We have been making and selling these presses for the last 7 years or so.
Relief Printmaking: This is for relief printmaking and will only print the surface of the matrix. It is suitable for Lino, MDF, wood or any other smooth surface.
Specifications: Height of press (closed) 340 mm. Bed Size 405 mm x 510 mm. Weight 16 kg. Maximum Opening 75 mm.